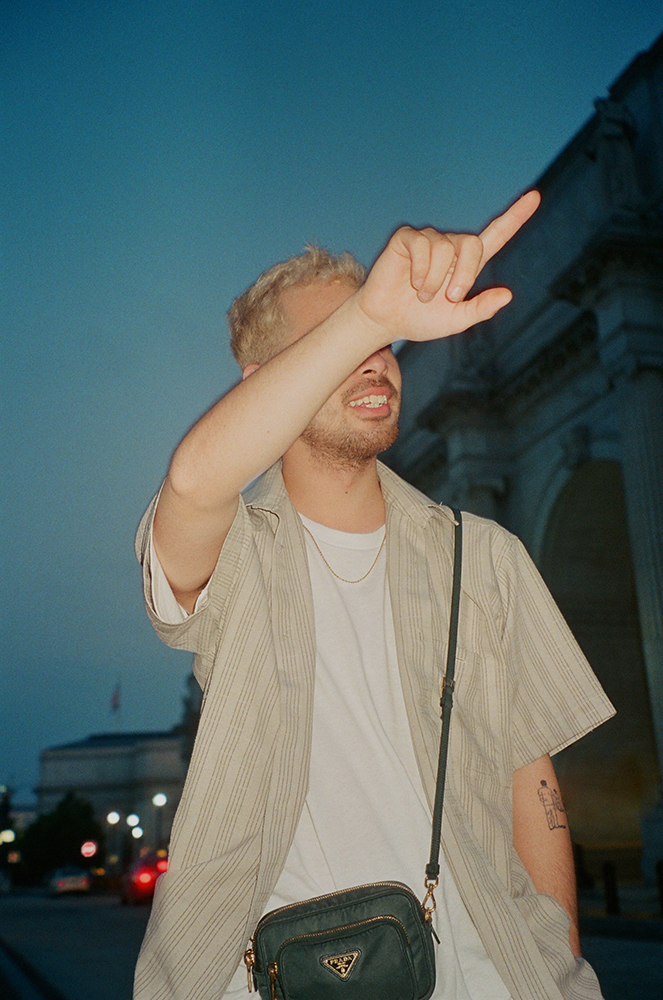 James J. Robinson is a Filipino/Australian photographer, filmmaker and writer. He is based between Los Angeles and Melbourne.

Initially shooting from 2014 at the age of 18, James has since been published by the likes of The New York Times and Vogue, worked with big names such as Kylie Jenner, Rihanna and Virgil Abloh, creative directed and shot campaigns for Instagram and Valentino, plus shot and directed hundreds more ad campaigns, short films, album covers, magazine editorials and music videos.

With a background in cinema and film criticism, his work pays particular attention to character, lighting, and narrative.

As a writer, he has published opinion pieces and interviews with a number of figureheads from across the globe, both in print and digitally.

In 2021, his portrait 'Kevin at Midnight' was nominated for Australia's prestigious National Photographic Portrait Prize, and is currently on display at the National Portrait Gallery in the country's capital, Canberra.

Despite commercial success, Robinson aims to keep his work grounded in celebrating the lives of everyday people – using his work as a conduit for social change and identity politics.

Beyond this work, James is also a disability support worker, lighting designer, and public speaker.

You can watch his TEDx talk where he discusses more about his practice here.



---
SELECTED CLIENTS




Adidas
Amazon Prime
Apple
The Australian Ballet
Condé Nast
Diesel
Equinox
Farfetch
Footlocker
Instagram (Meta)
Nike
Opening Ceremony
Puma
R/GA
Sony (Australia, Indonesia, Denmark, UK)
Tom Ford
Universal Studios
Valentino
PUBLICATIONS
10 Magazine
Entertainment Weekly
The Face
GQ (Australia, Germany, Spain)
i-D (UK & Australia)
The Los Angeles Times
The New York Times
Nylon (USA & Japan)
Oyster
Refinery29
Vogue (Australia, Philippines & Ukraine)
Wonderland Magazine
W Magazine
EXHIBITIONS
'Sky' film - TEDxSydney at Sydney Opera House, April 2014
'Somnambulists' - Brunswick Street Gallery, March 2015
'Open for Business' film - Milan World Expo, May to October 2015
'After Hours' - Solo Exhibition at Junior Space Gallery, November 2016
'Apollo Health Club, 1995' - screening at Neon Parlour, July 2017
'No Reception' for Toronto International Film Festival, September 2017

'Lovesick Rodeo' - At Current Gallery, December 2018
'Living Memory', National Photographic Portrait Prize - National Portrait Gallery, July to November 2021
'On Golden Days' - Solo Exhibition at Hillvale Gallery for PHOTO2022 Festival, May 2022
'On Golden Days' - Solo Exhibition at Gallery Tsukigime, Tokyo, September 2022

TALKS
'The Masses and the Media' - RMIT University, September 2015

'The World of Photo Collectives' - Australian Centre for Contemporary Photography, December 2015

Glebe ColourSound Festival, Sydney - Guest speaker, April 2016
Rowville Secondary College - Guest lecturer, August 2016
Melbourne Music Week 'Music in Motion' - Panel at State Library of Victoria, November 2016
Nike Air Max Day filmmaking tutorial lecturer - Nike HQ, March 2019
TEDxYouth @ Sydney speaker - Seymour Centre, April 2019

New York City YMCA - Guest careers speaker, November 2019
University of Warwick - PhotoSoc panel, March 2021

'Finding your photographic voice' - Melbourne Fashion Festival, March 2021

'Living Memory Panel' - National Portrait Gallery, August 2021

'On Industry, Philosophy & Techniques' - PHOTO2022 Festival, Hillvale Gallery, May 2022
'Developing Influences: Photography and power' — Wheeler Centre, May 2022
'Semiotics of Light' - Semi-Permanent, Sydney, May 2022